Halston dress, mask and headpiece worn by Carol Bjorkman, writer for Women's Wear Daily, at the Black and White Ball.
August 2021
Earlier this summer I went to New York to see an exhibit about the life of Katharine Graham, the groundbreaking publisher of the Washington Post. According to the exhibit at the New York Historical Society, her being guest of honor at Truman Capote's Black and White Ball was a pivotal moment in her evolution as publisher.
Capote, fresh off the success of In Cold Blood, invited 540 of his "closest friends" to the grand ballroom at the Plaza Hotel, with the stipulation that they dress only in black and white and wear masks.
On the night of November 28, 1966, U.S. and international reporters swarmed the Plaza's entrance to give up-to-the-minute reports on guests who arrived in a swirl of glamour — industrialists, ambassadors, princesses, philanthropists, writers, fashion designers, models, actors, politicians and "socialites" (now there's a term that epitomizes the moment!).  At Vogue, two marquee writers weighed in: Gloria Steinem, who had already created a stir with her exposé of life as a Playboy Bunny, and Arthur Schlesinger, Jr., the historian who was, like Graham, close to political figures such as John Kennedy and Adlai Stevenson. The ball was one of the most talked about events of the season, the decade, the era.
Putting the ball at the center of the exhibit is a brilliant curatorial choice. It gives the museum license to fill a room with photographs, ephemera such as the late supper menu and the guest list itself, and to mount a visually arresting display of dresses and masks. The assemblage recaptures Capote's behind-the-scenes planning and the guests' on-the-spot connections.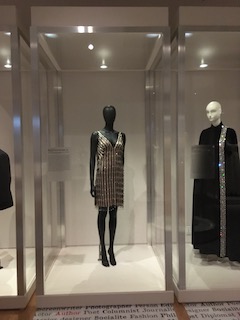 Nilo de Paul minidress worn by Aileen Mehle (aka Suzy Knickerbocker), society columnist.
Why was Graham the guest of honor? As she writes in her autobiography, Personal History, the ball was more about Capote than her when first conceived. He was tired from having written In Cold Blood and needed to re-energize himself. Designating her as guest of honor was an excuse to throw a party. "I was a prop," she says.
She had been publisher of the Washington Post only three years, having succeeded her deceased husband, who had succeeded her father. In her new role, she was trying to be a "serious, professional person." She dined at the Kennedy White House, flew to LBJ's Texas ranch and socialized with Supreme Court Justices, Senators and cabinet members. But Capote's crowd, centered in New York and far-flung internationally, was different. It represented an enhancement, or maybe a conflict with her Washington persona. "I really was a sort of middle-aged debutante—even a Cinderella, as far as that kind of life was concerned. I didn't know most of these people or their world, and they didn't know me." In the end, she wore a Balmain designed dress, a Halston mask, and a Kenneth hair style, and the ball was a highlight of her very long and rich social life.
In her book, Graham provides context. "This was the last possible moment that such a party could take place and not be widely excoriated," although it did draw some criticism. "Perhaps this was because the women's movement had not yet come to the fore, and it was before the most serious racial urban problems surfaced and before Vietnam became the burning issue that so dominated our society."
I think she nails it. I remember reading about the ball when I was in high school and being fascinated that anyone led such a life. But all around me, demonstrations, riots, and rock-n-roll were loud and growing louder, and that's what grabbed most of my attention.
Graham is equally discerning in her descriptions of other episodes of the twentieth century – from her birth in 1917 to her last day at the Post in 1991. For anyone who wants to understand this swath of history from a woman's perspective, her book is a tremendous resource.
Of course, Graham was not entirely typical of other women – she had more money and more powerful connections than most. But on the subject of what society expected of women, she spoke for millions. We were "brought up to believe that our roles were to be wives and mothers." And she embraced that role, until her husband died and she took over the paper in order to keep the paper in the family.
It's here that the women in my book diverge from Graham. They grew up in the same time period and were exposed to the same societal expectations, but they deliberately cast aside what others thought and chose careers for themselves, often early in their lives. In the book, I delve into how and why that happened.
And, there was another difference between my women and Graham: none of them was invited to the Black and White Ball.