The lyrics evoke a lineman high up on a telephone pole on the side of a deserted road. He yearns for an unnamed someone, crooning "I want you for all time." And he waits, hoping his feelings are reciprocated – "and the Wichita lineman is still on the line."
That the lineman is a guy isn't explicit, but it doesn't have to be. Back then, a woman climbing a phone pole to repair a line was as rare as a dodo bird. But what if it had been a woman – what would we have called her? Wichita linewoman?
Today, women do jobs like that. And lineman is their preferred noun, according to the Southeast Lineman Training Center, where women are recruited with the promise of good and equitable pay, and a Rosie the Riveter-inspired graphic touting "girl power."
The graphic is not just window dressing. In this video, you will see an all-woman team performing aerial feats of strength and skill. One woman in the video confesses she was nervous when she started the training program because she didn't want the spotlight on her, the only woman in her group. And it didn't turn out that way. She's just one of the guys, a lineman, "only prettier," she says with a smile.
Women wanting to be called linemen doesn't surprise me. In Maine, I've seen women work on lobster boats as "sternmen." Typically the boat owner stays at the wheel and the sternman works at the back end of the boat, lifting weighted traps, removing the catch, rebaiting bait bags, and resetting the traps in the water. She has to be a hard worker, as good or better than the next guy. And most women see no reason to change the word traditionally used to describe the job.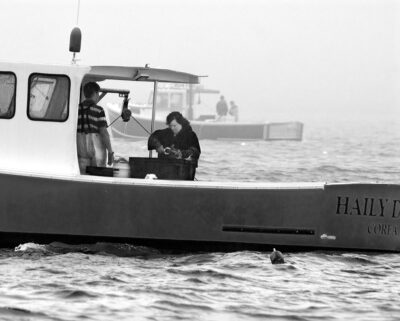 Photo by Marham Starr, New Bedford Fishing Heritage Center
I felt a similar pull toward male-oriented terminology when I became a lawyer. In formal correspondence and document signing, Esq. is typically inserted after a lawyer's name. I wanted to use the honorific myself, even though some men grumbled it was never meant for a woman. Esquire is a traditional term, rooted in the English class system, to indicate a gentleman of stature in society. In some long-ago time, lawyers appropriated the term for themselves, when only men were lawyers. But eventually women went into courtrooms, just as they have boarded fishing boats and climbed phone poles. Women don't want to be singled out because of their sex. They want to perform their job as well as a guy, if not better, and be treated accordingly. Seldom do women see a need to change the name of a job they have set out to do. Anyway, "Wichita linewoman" would have added an extra beat to the refrain and messed up Glenn Campbell's iconic song.
* * * * * * * * * * *
In book news, They Called Us Girls is now available in paperback. Some bookstores have already ordered the paperback, including those coordinating with libraries for upcoming book talks in celebration of Women's History Month. I'll be at the Wilkinson Public Library in Telluride, CO on March 2 (with Between the Covers bookstore), Brookline Public Library in Brookline, MA on March 7 (with Brookline Booksmith) and Boston Public Library in Copley Square on March 8 (with Trident Books). And exciting news – Tiziana Dearing, host of Radio Boston on WBUR, will join me as moderator at the BPL event. The library asks for advance registration and here's the link.
Hope to see you in March!