April 2023
Andrew and I are just back from a road trip of more than 5,000 miles in nearly 2 months. My head is full of images, vivid yet impressionistic, that refuse to come together in a single, coherent picture of the country. I keep thinking of a refrain from an old Simon and Garfunkel song: "I've gone to look for America."
We went to national parks, historic sites, art museums, literary homes, live music venues, bars and restaurants – all provided indelible experiences. But more satisfying was human interaction. We visited a few friends along the way, but mostly we talked to strangers.
It's no secret that women dominate the hospitality and food industries. That was obvious, everywhere we stopped. Of the many women we observed, four stand out.
The first is a waitress at a Waffle House outside of Kansas City, Missouri, near the Comfort Inn where we spent the night. We arrived at the hotel late, and the yellow light that blazed from Waffle House beckoned, the only place in sight where we could get something to eat. We sat down in a booth and a waitress approached, her name tag identifying her as Kathleen. I mentioned our shared name and so began a conversation. She described what it was like to work through the pandemic, when no tourists came but truckers did. She was given a management role, and many days she was the only employee on duty, other than the cook. That must have been difficult, I said. Yes, but she liked it because she earned more as a manager, plus she got tips from the truckers. After she brought us our dinner of eggs and toast, she called across the restaurant to a young woman, maybe 20 years old, to remind her it was time to refill the containers of mustard and ketchup. The young woman turned out to be her daughter.
The next morning at the Comfort Inn, I walked to the breakfast area and noticed a teenage girl seated in the lobby. She smiled and nodded as I passed. A few minutes later, when I was getting my coffee, she appeared at my elbow, straightening up cereal bowls, milk containers and other detritus. I told her I thought she was a guest, when I saw her in the lobby. No, she was just waiting for her 8 o'clock shift to begin. Her mother, who  worked in housekeeping, had gotten her the job, and she was earning $15 an hour. She planned to use the money to pay for car insurance when she got her license, a few months from now. Wasn't this a school day? Yes, but she didn't have classes every morning, and so she worked whenever she could. I wondered if she, too, would follow in her mother's footsteps.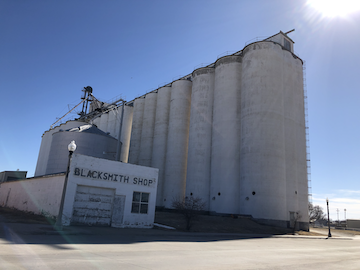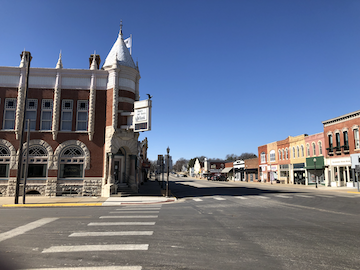 Council Grove (pictured above) is a small town in the Flint Hills of Kansas. Tourists come to the town because it's near the Tallgrass Prairie National Preserve and each summer there's an outdoor music festival. But we were there off-season and, I'm pretty sure, were the only out-of-towners at the Saddlerock Café for Sunday morning breakfast. When we stepped up to the cash register to pay, we fell into conversation with a waitress. She worked only on Sundays; the rest of the week she taught at the local middle school. It was tough to be a teacher during the pandemic, but now was worse. Kids had been on their own for too long and now felt free to ignore rules. Plus, she said, Council Grove was an economically depressed area, which meant there were a lot of "low-life" types. The school system required teachers to use a technique known as resilience training, geared toward understanding the reasons for students' misbehavior, but light on discipline. Understanding only goes so far, she thought. Kids need to know there will consequences for their actions. But her hands were tied, given the school's policy, and she feared the situation would only get worse, if the kids ended up like some of the adults around them.
The bookstore in Council Grove is small. On the afternoon we stopped in, a teenage girl sat silently behind the counter while we, the only customers, browsed. A middle-aged man wearing overalls and muddy boots entered and handed her an envelope from which she extracted a piece of paper and began to read. Suddenly, the atmosphere became electric: she beamed, and he began to smile. At the counter to pay for a book, I said it seemed as though she had gotten some good news. Yes, I got a scholarship for community college. Congratulations, and what do you plan to study? I used to think I would study psychology or law, she said, but now I don't want an office job. I'm going to study agriculture and work on my family's farm. Is it a big farm? Around a thousand acres. This young woman, I concluded, really would follow in her parents' footsteps.
These four women, and so many other people we met in the midwest, west and south, lead lives very different from mine, and from the women I've written about in my book. That's why I find them interesting. If I were to make them the subject of a book, I would delve into topics such as vocational training, community college, the current debate over a lower age for workers, and public school teaching. But right now I don't plan to write about them. Right now I just want to remember the impression they left. And to mull over the words of Simon and Garfunkel's song.